In 1838 the Quakers and other Abolitionists built Pennsylvania Hall (nicknamed the Temple of Free Discussion ) in Philadelphia as an answer to the growing White Supremacy movement in the Northern United States. It was designed to be a place for Abolitionists and others to gather and speak freely, to plan, and to share ideas meant to bolster freedom and equality for all, including women and people of color. It had a large meeting hall, small meeting rooms, a printing press and bookstore, and a market to sell goods made free of slave labor. Black and white men and women gathered in its main hall to hear three days of opening speeches.
On the third day it was burned to the ground by a large anti-Black mob that had been gathering outside for days. The police, the US militia, and fire brigades stood by as it burned. During the fire, people cheered and someone rang the Liberty Bell which was in Liberty Hall just a block away.
Not long after, the United States split apart in the Civil War.
A few years after its burning, the Quaker community printed a book recording every available speech and letters of dedication read aloud on those three days. The Temple to Free Discussion was never rebuilt.
Until now.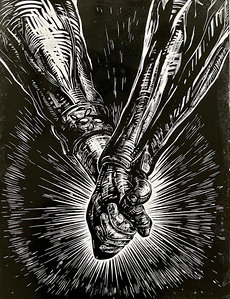 Rebuild the Temple of Free Discussion is a community engaged art project by visual artist and Quaker Todd Drake. In its conception, Drake draws parallels between this event in 1838 and the January 6th attack on the US Capital and raises the question if we are headed toward another Civil War, what can we as a peace loving community do to head it off? Drake believes that by owning the words and spirit of those ancestors who believed in equality and freedom it is possible to find the strength in community to face and overcome this new threat to peace and freedom in the United States. This time, building the Temple of Free Discussion with non combustible hearts and minds.
Drake is inviting others to help transcribe the speeches and letters from the dedication of the Temple of Free Discussion onto large black paper scrolls. Using wooden letter press type commonly used in the 19th Century, the words of each speaker will be carefully stamped out by many hands onto black paper scrolls. The black ink and black paper represent the ashes of the burned building.
Drake will visit faith communities, along with galleries, schools, and art museums, throughout the United States inviting the public to participate in this slow and considered transcription and rebuilding.
Discussions and presentations will also be organized around the project.
The scrolls created by many will then be transformed chemically by Drake into luminous works of art for display. An installation of these scrolls along with related sculpture and art by Drake will be available for display. Participation and creation of the works of art will be documented.
Participants who help in the transcription of speeches will be invited to record their thoughts and feelings on a digital platform.
The goal of this effort is to broaden the discussion and build a coalition of people who will work diligently to peaceably preserve the civil rights, freedom, and democracy of all in the United States.
Recommended Reading
Menakem, Resmaa. The Quaking of America: An Embodied Guide to Navigating Our Nation's Upheaval and Racial Reckoning. Central Recovery Press, 2022.

Tomek, Beverly C. Pennsylvania Hall: A "Legal Lynching" in the Shadow of the Liberty Bell. Oxford University Press, 2014.