Museum of the Undocumented
I recently asked a history museum if they were interested in doing an exhibition on the contributions, struggles, and joys of the undocumented community. I never head back from them. So this series is dedicated to remembering those who daily face exploitation, stereotyping, uncertainty and undervaluing in a land (North Carolina) that is writing laws to allow them to work in the fields and retirement homes but which raises the college tuition on their undocumented children. A place that may yet choose to remember them.
These works and more were part of a solo show I had at NC A&T University in Greensboro, NC. Check out more photos from this series at Help: Hidden Work, Hidden Lives, an exhibition at NC A&T State University, birthplace of the Civil Rights Sit-In Movement.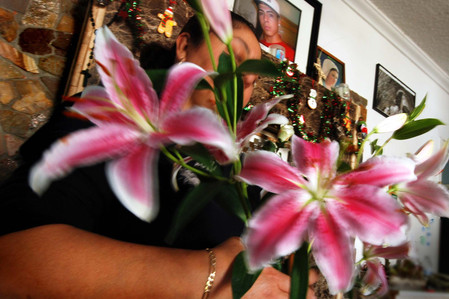 " A man who was killed in an industrial accident involving a wood chipper has been identified by authorities.
Nery Castaneda Valenzuela, 17, of unknown address, was operating a wood chipper at the time of the fatal accident, said Neal O'Briant, a spokesman for the N.C. Department of Labor. An earlier report had an incorrect last name.
The accident occurred about 3:15 p.m. Tuesday at Pallet Express, 2821 Assembly Road, off U.S. 29 north of Greensboro, Guilford County Sheriff's Col. Randy Powers said.
The N.C. Department of Labor's Occupational Safety and Health Division is investigating the incident, O'Briant said.
Investigators are looking into whether Valenzuela was old enough to operate the machinery under labor laws, among other issues, O'Briant said.
The investigation will take between two to six months, he said.
A woman who answered the phone at Pallet Express Wednesday morning said company officials may be available to comment later in the day.
- from news report, Notice there is no mention of him being undocumented. His remains were sent home in a shoe box. A photo remains in the shed where he died to this day and was used in the creation of this photo memorial.